Weekend Preview: Shorthanded Bears Head to Melbourne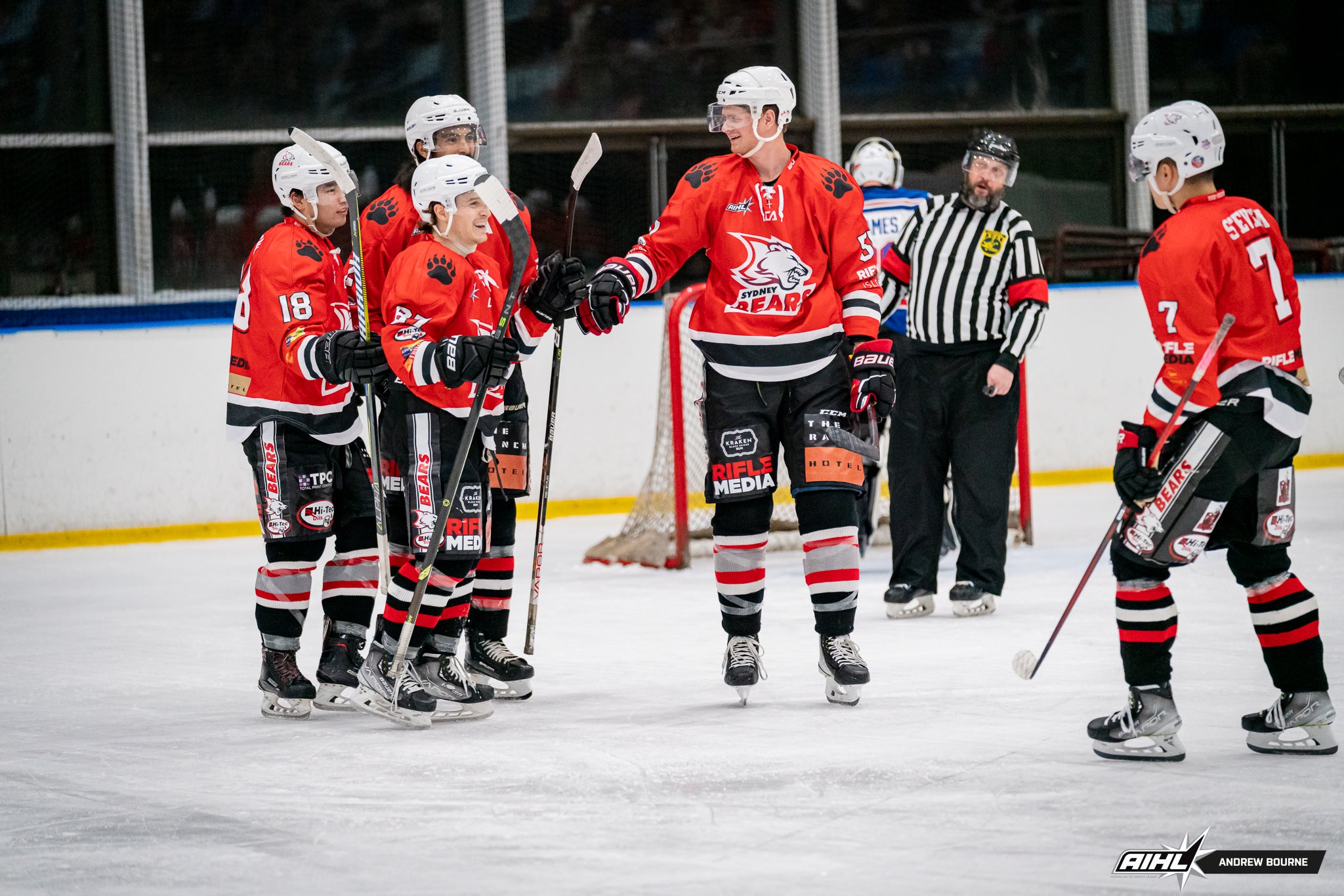 The Sydney Bears travel to Melbourne this weekend to take on the Ice and Mustangs. Unfortunately, the Bears will be without three key members of its on-ice leadership group – Captain Ryan Annesley (injury), Assistant Captains Michael Schlamp (injury) and Brian Funes (two-game suspension).
Melbourne Ice travelled to Sydney earlier this month and took a 4-3 lead into the final period. However, third periods have been a strength of the Bears, and they emerged victorious 7-4.
Since that meeting, the Ice have registered one win (5-3 against the Sydney Ice Dogs) and one loss (2-6 against the Brisbane Lightning). Sydney has played just one game since that encounter, a close 5-2 victory against the Central Coast Rhinos on Mother's Day.
The Ice will be keen to lift itself out of last place in the Hellyer Conference and will need a big game from its starting goaltender, whomever that may be. Both Michael James (.871 save %) and Austin Lefkowicz (.875 save %) have split starts this season for the Ice.
Defenceman Jack Carpenter leads the Ice in points with eight assists in seven games ahead of forwards Austin McKenzie (5-2-7) and Lliam Webster (4-3-7).
New Ice import Patrick Klöpper had a great debut last weekend, scoring a highlight-reel goal and collecting an assist in the loss to Brisbane. The Bears will look to shut down the dynamic forward while causing matchup problems for the opposition.
The puck drop for the Bears v Ice game will be Saturday at 5 pm. If you are travelling to Melbourne, you can buy your tickets here; otherwise, you can view the game on AIHL TV.
On Sunday, the Bears face the Mustangs for the first of four games this season. The Mustangs are second in the Hellyer Conference, a single point behind the Bears. It will be a contest between two legitimate Goodall Cup contenders.
Mustangs import goaltender Liam Hughes has stolen games for Melbourne, boasting a 2.14 Goals Against Average (GAA), .925 save percentage, and five wins in six appearances.
The Mustangs have failed to pick up maximum points twice this season, to the CBR Brave in a shootout win and the Perth Thunder in a regulation loss. Both games were away from home.
Last weekend, Chris Lawrence had an outstanding debut for the Mustangs, notching up four goals and two assists. The Bears will look to shut down second-year imports Scott Timmins (9-13-22) and Ty Wishart (6-13-19), who sit third and fifth in league scoring.
Sydney has weapons of its own, with star goaltender Anthony Kimlin in fine form between the pipes, recording a .923 save percentage and three wins from four appearances.
The top line of Kenshin Hayashi, Ace Cowans, and Thomas Steven has been the catalyst for Sydney's offence, scoring 15 of the team's 40 goals. Marc McNulty has added three goals in four games from the blue line and will be keen to add to a two-goal performance in his last outing.
With all three leadership group members unavailable from the start of the season, Thomas Steven, Timothy Newmark, and Tyerell Clare will wear 'A's for the weekend. Utility import skater Alexander Gauthier will likely play on defence to cover the absences of Annesley and Funes.
The puck drop for the Bears v Mustangs game will be Sunday at 2 pm. Again, if you are travelling to Melbourne, click here to purchase tickets; otherwise, you can view the game on AIHL TV.
The Bears' next home game will be Saturday, June 3, at 5 pm against the Adelaide Adrenaline. The team needs you, our seventh player, at the rink to lift the team. Click here to get your tickets, check out our membership packages, and see you at the rink!
Leave a comment
Comments will be approved before showing up.