Sydney Bears 2017 Team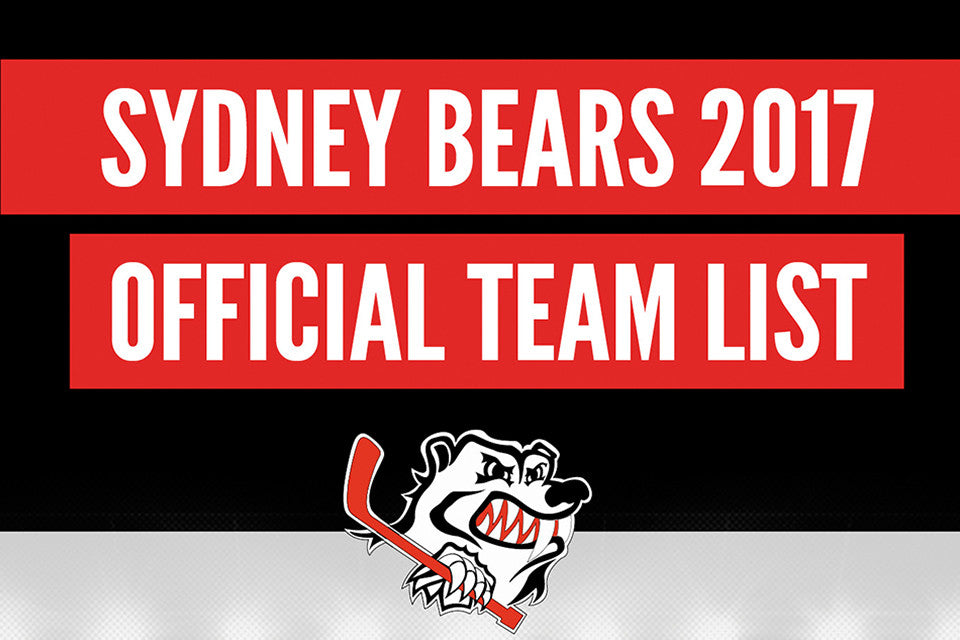 Your Sydney Bears are settling in quite nicely at their home, Macquarie Ice Rink and are ready to for the 2017 season to be underway.
Captain, Michael Schlamp, enters his eighth season at the helm of the Bears, joined by two new Assistant Captains, Brian Funes and Cameron Todd.
Some new Australian faces this season, with Jeremy Brucker and Rob Covino set to grow the local talent within an already strong Australian side.
Returning this year to the lineup is the Bears leading point scorer and former head coach Vladimir Rubes, whose career totals 399 points in 239 games.
Guiding your Bears from the bench this year is returning Head Coach, Ron Kuprowsky, with Assistant Coaches, former Bears import defenceman, Ryan Annesley and Jeff Todd. 
Your 2017 Sydney Bears Team:
Forwards
 4 Cameron Todd (A)
11 Michael Schlamp (C)
13 Lachlan McKenzie
14 Robert Covino
15 Jeremy Vazquez
19 Saxon Air
20 Vladimir Rubes
24 Tomas Landa (Import)
37 Brent Vandenberg (Import)
49 Jackson Brewer (Import)
55 Richard Tesarik
73 Tyler Noseworthy (Import)
84 Adrian Esposito
91 Jeremy Brucker
Defence
2 Brian Fines (A)
7 Nick Rivait (Import)
16 Ryan Annesley (Import)
43 Patrick Ward
65 Lachlan Fahmy
97 Tyerell Clare
Goaltenders
1 Anthony Kimlin
35 James Downie
Tickets to the Bears Season Opener are on sale now. Get yours online today.
Leave a comment
Comments will be approved before showing up.