In Melbourne With Nic Kawasaki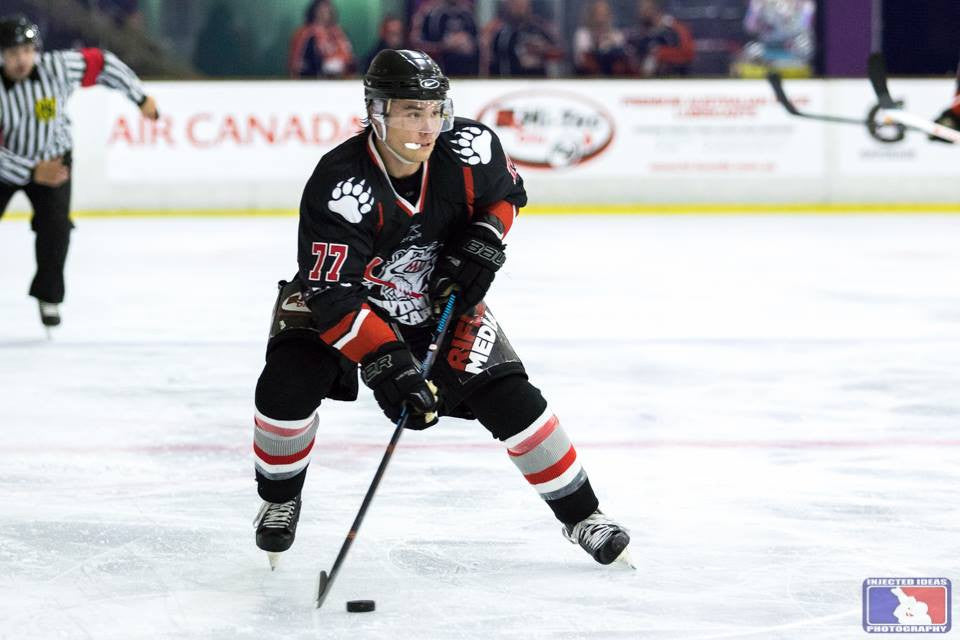 Part One:
Another road trip, another blog post. Hey Bears fans, #77 Nic Kawasaki here to bring you another taste of what it's like to join the team on a roadie. 
This weekend we head back to the frozen tundra known as Melbourne to take on the Melbourne Mustangs and Melbourne Ice in a weekend doubleheader. These games are huge for us as we need to get points to stay in the hunt for the final playoff spot. 
Today I rolled out of bed at around 7:30, showered and then took an Uber from my apartment to the airport. After about thirty minutes of waiting for the last stragglers to roll through the door, the boys and I headed up to security and then onto the food court where Saxon, Spence, and I enjoyed our customary pregame brekky burritos. Spence even managed to not misplace his ticket, unlike last Melbourne trip. After this, the boys and I headed to our gate and boarded our flight. 
Everyone likes to prepare for games and roadtrips in different ways, but I'll give you guys a taste of what I like to do to get ready for big weekends on the road. 
The mental side: Before every roadtrip and game I like to go somewhere quiet, sit, and think about the upcoming games. I prefer to do this outside because it helps me relax and get focused before I need to play. When we're playing at home I'll walk out to a park near my apartment in Haymarket and just sit on a bench for a while. I try to visualize being out on the ice and playing the game before the game. I'll think about the typical things like scoring, stickhandling, skating, but I also like to focus on the little things like simply chipping pucks out of the zone, faceoffs, forechecking, and playing defense. I do this the day of every home game at my apartment, but it's harder to get time alone on the road so I like to do it before we leave. 
Of course there is also the more mundane aspect of packing for the roadtrips. I always double check I have everything the night before we leave, you don't want to be that one guy who forgets his skates back home when you're on the road. This proves to be especially difficult for me as my hockey bag is basically held together by tape (shoutout to Captain Shlampy for lending me his packing tape). 
To get ready for games I like to get to the rink early - around one and a half to two hours before puck drop. For the first thirty to forty five minutes or so, I like hang out and joke around with the rest of the boys in the room until we go outside to warmup for the game. We like to play sewer ball (or two touch as its known in The States) to get loose before we suit up for the game. I'll play a few games, but being American and therefore pretty much inherently bad at soccer, I don't usually make it past the first few rounds of eliminations and subsequently give up, run around, and stretch before heading back inside. This is when I plug into my headphones and really get mentally prepared for the games. I always retape all my sticks, the exact same way, before every time I touch the ice. Once they're taped and liberally waxed, the fresh TJ cannot touch the ground or else I'll have to start over (let's just say I go through a lot of tape over the course of a season). After I'm done taping my sticks, I like to go stand near the glass or bench and look out onto the ice and think about the upcoming game and get into "the Zone." With about twenty minutes to go until we need to be dressed, I'll head inside the lockeroom to put my gear on. I love listening to music, so this is when I crank up the volume and listen to my favorite tunes before heading out onto the ice. My last pregame ritual once I'm dressed and just before we hit the ice: two glove taps to the top of the helmet, one stick tap to my left knee, one stick tap to my right knee, and one stick tap to the left knee. 
Our flight's about to take off. I'll check in with you guys tonight after we take on the Mustangs.

Part Two:
3 points down, 3 to go. We were able to win our game tonight against the Mustangs 3-1, getting one win closer to the fourth and final playoff spot with about 10 games to go. We have another big game tomorrow against the first-place Melbourne Ice. 
I got to hand it to the Mustangs and Ice, they share one of the nicest rinks I've ever played in, including playing Canada and the US going on twelve years. Even the area around the rink is really cool, I could easily spend a couple hours there. Also, playing in Melbourne reminds me that it's a shock to see how much you appreciate playing with glass along the boards after playing a handful of games without it over here. You wouldn't think that something so innocuous as simple plexiglass would affect the game so much, but it does. It's also fun playing in front of the Ice House crowd; the place is always packed and the crowd is great. Playing in Melbourne is definitely a highlight of my experience playing for the Bears so far. But, it doesn't beat playing at home in front of our fans in Penrith. 
After the big win tonight Tyerell and I decided to go explore the docklands while waiting for the rest of the boys to board our team bus. I may have been distracted by the new Pokemon GO game and lost track of time, so when we returned to the rink around twenty minutes later Tyerell and myself found that our supposed teammates and "friends" had left without us. No warning or anything. We're considering sitting out tomorrow's game as a peaceful protest. All jokes aside, we made it back to the team hotel alright and took some chirping from the rest of the boys and then headed out to dinner with some of the lads. We learned our lesson; don't make the boys wait for their dinner after a game. I tried my best to explain the benefits of the game, but the older leadership (Schlampy, Paddy, Espo) were having none of it. Must be an old people thing. 
After dinner we made our way back to the hotel. Those of old enough enjoyed a few adult beverages at the bar and celebrated the big win. Time for me to sign off, I don't want Schlampy on my case for missing curfew. 
We'll catch up after our game against the Ice.

Part Three:
Tough game tonight against the top-seeded Melbourne Ice. The boys fought hard the entire time, and we trailed 2-1 going on four minutes remaining in the third period. However, we ran into some penalty trouble. A 5-on-3 goal against and a subsequent power play goal against put the game out of reach at the end. It was a great game; both teams battled hard and scoring opportunities were few and far between. 
All we can do is put this weekend in the rearview and start getting ready for another huge game against Perth this Saturday at home. 
Despite the loss today, I had another great time in Melbourne this weekend. As a foreigner, it's always fun for me to be able to explore the cities we travel to as a team when we have down time. After checking out of the hotel this morning, Spencer, Tyerell, and I took a nice scenic tour of the city from the team hotel to the Crown Casino, where we subsequently lost all our chips within about twenty minutes. This time a couple of the boys checked in with us to make sure that the bus wasn't leaving us behind at the hotel. Some kind souls even took our gear on the bus for us, a luxury we did not receive on Saturday. We appreciated the concern, fellas. 
After grabbing a quick lunch at the casino cafeteria, the three of us took one of the free trams from Flinders Street to the Docklands, where the Ice House is. This was a cool experience for me, as the tram looked just like the famous cable cars that run all over my native San Francisco. The tram ride, along with our stroll to the Casino, allowed me to take in a lot of the city, and the street art and architecture that makes Melbourne unique. This city is definitely a place I'd like to spend more time in; hopefully we will be back for the AIHL finals next month!
After our game the boys loaded up the bus and took off for the airport. We checked in, got through security, and headed to the food court where most of us feasted on Oporto and Hungry Jack's - perennial stops for post game grub. We're now sitting at the gate getting ready to head back home. 
All in all, even though we did not get the desired result, and the boys left me and Tyerell behind one time, I had a great time this weekend. Playing in the games is what we all came for, but the team bonding, stories, and hanging with the boys is what roadies are all about. Hopefully I have done the roadie experience adequate justice by trying to share it with you all. 

I'm proud of our guys and the effort we put in this weekend. We played a couple of really good teams with a short bench, were able to come away with one win, and were in the second game against the top seeded team until the very end. The boys are playing some good hockey right now, and things are looking up for our playoff push. 
I'd like to give a special thanks to Ronny, Brad, Matty, and Eric for coming along with us and especially to Wayne for making the trip possible. 
Finally, I'd like to give a special shoutout to The Koreans, my team in the SF Gold A Beer League. Glad to hear you guys are still killing it without me, bring home a championship this week! See you when I get back. 
Thanks for hanging with me this weekend, Bears fans. See you at the rink!
Until next time,
#77 Nic Kawasak
(Image by Richard Costello)
1 Response
Leave a comment
Comments will be approved before showing up.