Bears Look to Silence Visiting Thunder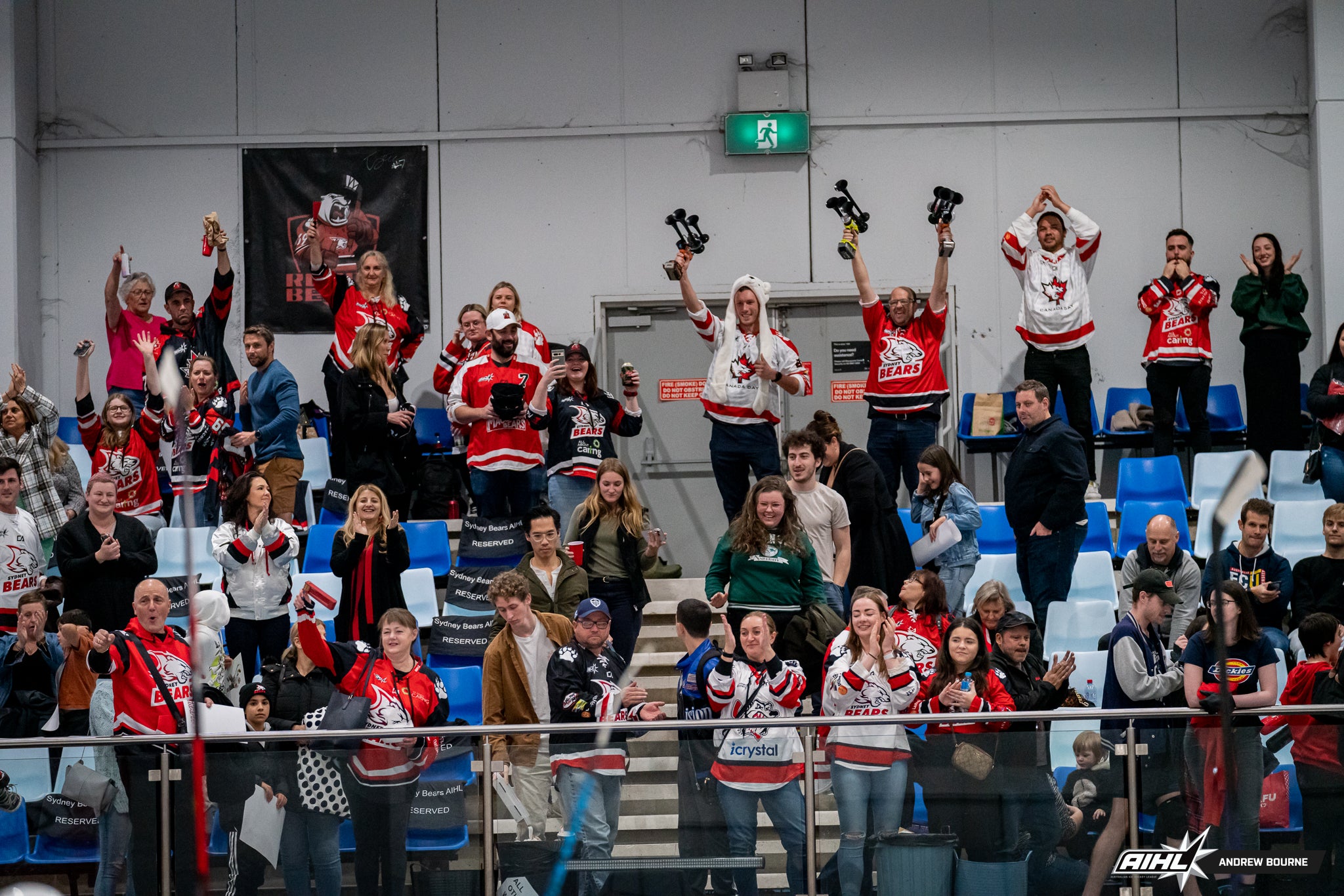 The Sydney Bears return to action this Saturday in a Hellyer Conference clash with the third-placed Perth Thunder. The matchup kicks off the first of four games the teams will play in the season series.
Both sides were in action last weekend, hosting Rurak Conference opponents. The Bears cruised to a 6-2 victory over the Adrenaline, while the Thunder came from behind and scored a late flurry of goals to down the Rhinos 7-2.
Perth will bring a rejuvenated lineup to Macquarie Ice Rink featuring new import goaltender Kristian Stead and import forward Andrew Bellant.
Stead picked up his first win in his debut last weekend, stopping 22 of 24 shots. Meanwhile, Bellant is proving to be an exceptional pickup for the Thunder, collecting ten goals and seven assists in just four appearances.
The Bears boast offensive weapons of their own and have been getting offence from all areas of the lineup. Tommy Steven leads the lines with 25 points in 11 games, followed by fellow first-liner Ace Cowans with 24 points in 11.
Bears Head Coach Ron Kuprowsky expects a tough matchup, saying, "They are always a hard game, and we don't expect anything less from them on Saturday".
The Bears' three new signings debuted last weekend and are slated to play big roles again on Saturday.
Coach Kuprowsky commented on the impact of the three new additions. "We were pleased with the injection of energy the three new players provided.
"[James] Downie was solid in goal and added a bit of offence with his apple on the fourth goal.
"Jake [Pappalardo] is just getting his Aussie legs and was only getting better and better as the game went on, [I'm] looking for good things to come from him.
"Hayden [Dawes] had an immediate impact on the game, and his size and ability is something other teams will need to be ready for as he is a strong two-way player.
"As the guys gel more, expect to keep seeing improvement from these three and with the team as the players get used to the new additions."
Last weekend, Hayden Dawes started on the third line alongside Ellesse Carini and Thomas Moncrieff.
By the second period, he had moved to the second line alongside Pappalardo and Tomas Landa, replacing versatile forward Jeremy Brücker.
Watch for similar line tinkering and swapping as Coach Kuprowsky builds chemistry within the roster and prepares for situational adjustments later in the season.
Fans will be pleased to know that Kenshin Hayashi, Joey Gunner, and Tyerell Clare will return for the Bears on Saturday, providing Coach Kuprowsky with more options.
Get your tickets and get behind the team against the Perth Thunder at Macquarie Ice Rink. Doors open at 4:30 pm, and puck drop is at 5:00 pm.
Leave a comment
Comments will be approved before showing up.