#TheHomecoming: The Bears Finally Return Home to Macquarie Ice Rink.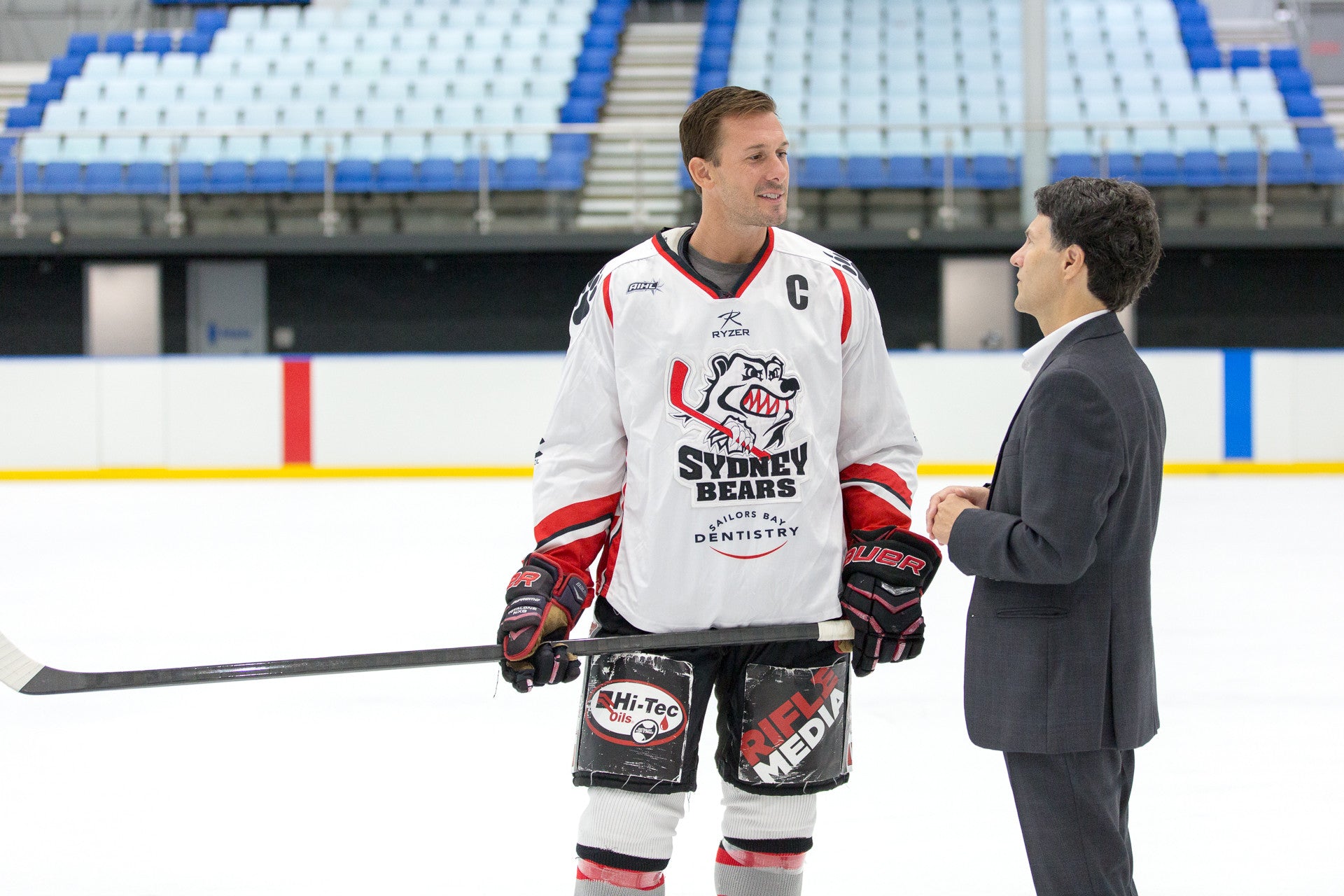 The Sydney Bears are finally returning home to Macquarie Ice Rink to play their 2017 Season.
The move comes from renovations to the rink that has met AIHL and IHA requirements for player safety and regulations. The announcement was made this morning at Macquarie Ice Rink where The Hon. Victor Dominello, NSW Minister for Innovation and Member for Ryde welcomed the Bears home along with new residents, the Sydney Ice Dogs. 
They won their first Goodall Cup in 2002 at Macquarie and long-time Bears Captain, Michael Schlamp is determined to bring the cup back home in 2017.
"The boys are stoked to be coming back to Macquarie and are keen to get the season underway. It's always been a talking point for us - training there and playing at a different rink is a significant disadvantage we have over the other teams in the AIHL.
Now that we're back, I have every confidence we're going to be a dominant force, with our local talent continuing to grow stronger season on season. There's no doubt we're going to make a huge push to bring that Cup home to Macquarie."
Vice President, Matthew Burrell is equally excited at the teams return to Macquarie Ice Rink:
"Coming back to Macquarie, it's almost like that missing piece to the puzzle is finally in place. We're keen to embrace the local community along with Macquarie University and really get everyone involved. We've always considered ourselves a big family, with the players, management and the fans and we can't wait to welcome more into the fold! All the volunteers and myself are excited about the opportunities that being here provides. We have a committed off ice team and we're ready to hit the ground running."
The Bears are the last original team remaining in the AIHL and celebrate their 35th anniversary this year. President, Wayne Hellyer said:
"I've been a part of this club as a player, a manager, a president, I've seen the club through the highs and the lows and our history is one I am really proud of. 35 years is a long time, that along with being the only original team in the league is an honour and I'm really looking forward to creating more history back home at Macquarie Ice Rink."
Formerly known as the Macquarie Bears at their inception in 1982, the team held this name until the formation of the national league, which sparked a name change to the Sydney Bears in 1997.
The Bears will share their home with their cross-city rivals the Sydney Ice Dogs in an effort to promote the sport in Sydney. Hellyer said: "Having the [Ice] Dogs in here with us, will do wonders for hockey in Sydney, I think. Derby day will be even more exciting."
Leave a comment
Comments will be approved before showing up.