Player Feature: Adrian Esposito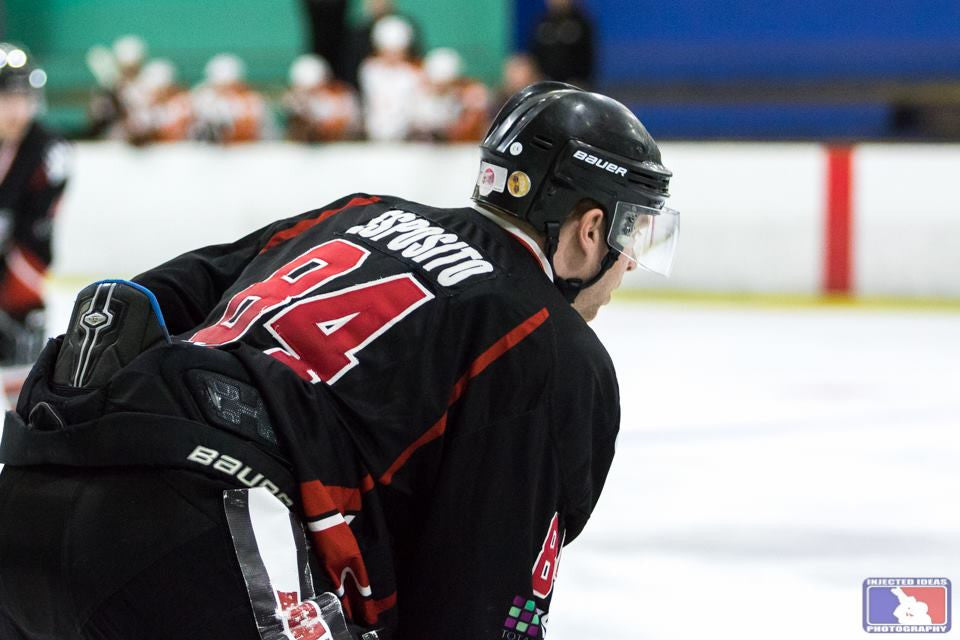 As the longest standing Bears player, what does that honour mean to you to be able to represent the team you began your hockey career with? 
Of course, it's a great honor to be still be playing with the club that essentially mentored and raised me to be the hockey player I am today. And obviously being with the organisation for so long now, it starts to feel more like being part of a family than just playing in a hockey club. 
You hear around the league some really key players that have done so much for the sport retire around my age and take a step back from hockey. When you see or hear that, it makes you wonder if you should consider the same option. SO then in the same thought I think I'm very lucky and grateful that I'm able to continue playing at this level and that the club still sees me as someone worth having on their team... Especially not being as quick as used to be at 17.
What got you wanting to play ice hockey as a child? 
This is such a cliché answer but I have to be honest and say it was the Mighty Ducks first movie... champions I think it was called? I had been skating since I was about 5 years old doing basic skating and entered some competitions. Then as that movie came out (think I was 9?), my mum took me to see it and it just ignited something within me that has stayed with me to this day. I even played the typical Aussie sports at the time too (Aussie rules, soccer, cricket, rugby) but for some reason, hockey just took control of me. Although, it wasn't till I was about 12 years old that I got to play any kind of club hockey and it was inline at that. Then at 14 I moved over to ice and began with the Bears.  
What does it mean to move back to Macquarie for you? 
I've answered this question so much... but it's a couple things for me. Like I mentioned, I've been skating at mac since I was 5 years old. This whole area has been my home and it's where it all began for me. Macquarie is where I touched ice for the first time, put my first pair of skates on and played ice hockey with the Bears for the first time. Playing back here is a dream that was a long time coming and to be still be an active player while getting to see all the great things that could potentially come of us being back here, is exciting and certainly revitalizing. 
And on a personal note, I owe EVERYTHING to my grandparents and my mum. They've supported me unquestionably throughout my hockey career. My grandparents up until last year had attended every home game, but due to not being able to drive the distance anymore, they had to stop coming. Now that we're playing five minutes from where they live, they're able to attend games again and of course, that's very special to me.
Favourite Bears memory?
Both winning the championship in 2002 as a 17 year old [in my] rookie season with the Bears and of course the big 2007 win with Tommy [Landa] on the team back then too. I'll never forget how we went in to over time and Robbie Pasminka's clapper from the blue line went top corner and Matt Ezzy was just frozen in his crease.
[Watch the 2007 moment: https://youtu.be/IoiO51lNGxQ]
What is your greatest hockey achievement? 
There's a couple actually but ones that stand out:
Making the Aussie youth team and winning gold in Mexico
Again with the Aussie Junior team winning gold in Bulgaria
And the most important one - Making the Senior Aussie team and winning gold in Newcastle and moving up to Division 1 the following year.
And of course my various international hockey stints.  
Do you have any advice for the young Australians looking to play ice hockey? 
If you're just starting for the first time, SKATE... haha. Learn to be patient and get really, really comfortable with skating (such an unnatural movement) and just keep at it. It'll be frustrating at first but once you learn... it'll feel as if you're flying. 
If you're already playing, get as much ice time as you can; skate shoot and puck handle as often as you can. When I was in Bantams, we didn't have any ice time apart from what was allocated to us as kids. So as cliché as it sounds, I threw on some inline skates and skated, puck handled and shot every day in the garage/basement and sometimes on the street. So often to the point one of our neighbours started pouring buckets of water on to the ground where I was playing to try and get me stop... I never did. 
But most importantly, make sure you're having fun! Hockey is a fun, team sport and it's for everyone to be a part of.  The main reason I play and most people my age and up continue to play I think, is because they're still having fun and they love the sport. 
Get your tickets to our home opener on April 22 when we take on the Ice Dogs here.
Leave a comment
Comments will be approved before showing up.