Michael Schlamp Earns Player of the Week Honours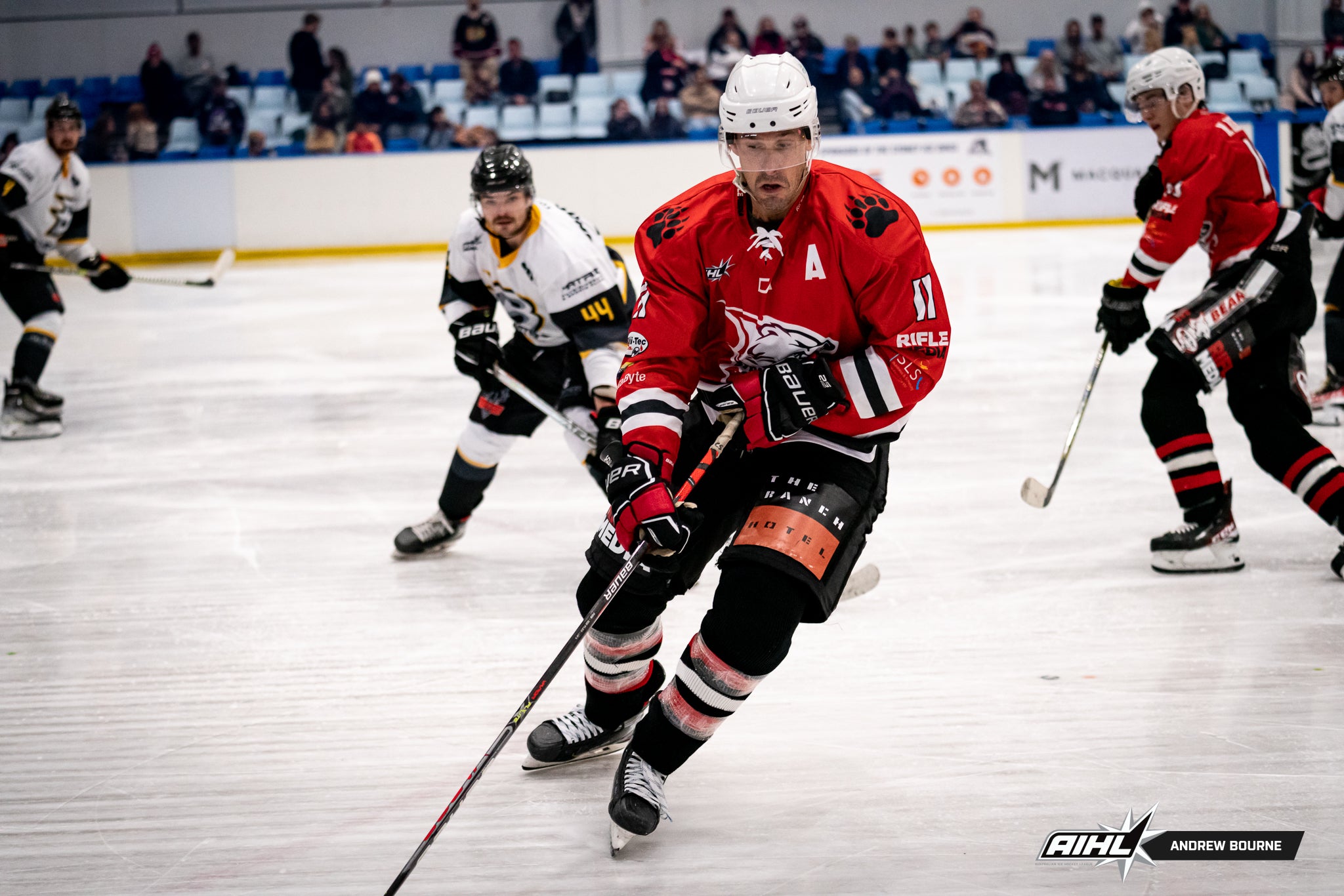 Sydney Bears' forward Michael Schlamp has earned the Skaters Network AIHL Player of the Week award for his round two performance. The 42-year-old vet racked up a goal and six assists in two contests for the Bears.
Schlamp is making his return to the AIHL for the first time since lifting the Goodall Cup in 2019. "The first weekend I was pretty rusty and wasn't super happy about my game," Schlamp said. "Every time I've been on the ice since then, I've felt better."
Last weekend, the Adrenaline came out of the gates fast, with three goals in the first ten minutes in Adelaide. Schlamp helped the team recover, assisting Ace Cowans' goal, cutting the deficit to two, and earning the primary assist on Ryan Annesley's go-ahead goal. In the third period, Schlamp scored his first of the season to seal the game.
"After that first little bit," Schlamp commented, "guys were putting the puck in the net. It's always nice to get some points."
Schlamp followed up that three-point performance with four points against the reigning champion CBR Brave. The big Canadian forward from Regina, Saskatchewan, has plenty left in the tank, with seven points in just three AIHL games.
"It's been awesome to be back with the Bears. There are lots of new faces and lots of young faces getting a little bit older," Schlamp laughed.
Asked how he felt about receiving the award, which includes a free stick from Skaters Network, Schlamp was grateful and said it's always "nice to pick up a new twig".
Schlamp's teammates are grateful for his return to the team. Following Schlamp's four-point performance against the Brave, Bears' Captain Ryan Annesley said, "I can't say enough about Schlampy. It's so nice to have him back, we're super pumped to have number 11 back with us again this year for sure."
Coach Ron Kuprowsky also commented on Schlamp's impact since his return. "His presence off and on the ice is an asset to the team. Drawing on his experience and utilising his skills only helps to make the team stronger."
You can see Michael Schlamp and the rest of the Bears' squad as they take on the Newcastle Northstars this Saturday. Make sure you, our seventh player, get down to the rink and support the team. You can either purchase tickets online or at the rink. Membership packages are also available, and you can choose a package that suits you. Doors open at 4:30 pm, and puck drop is at 5:00 pm.
Leave a comment
Comments will be approved before showing up.