In Melbourne with Brian Funes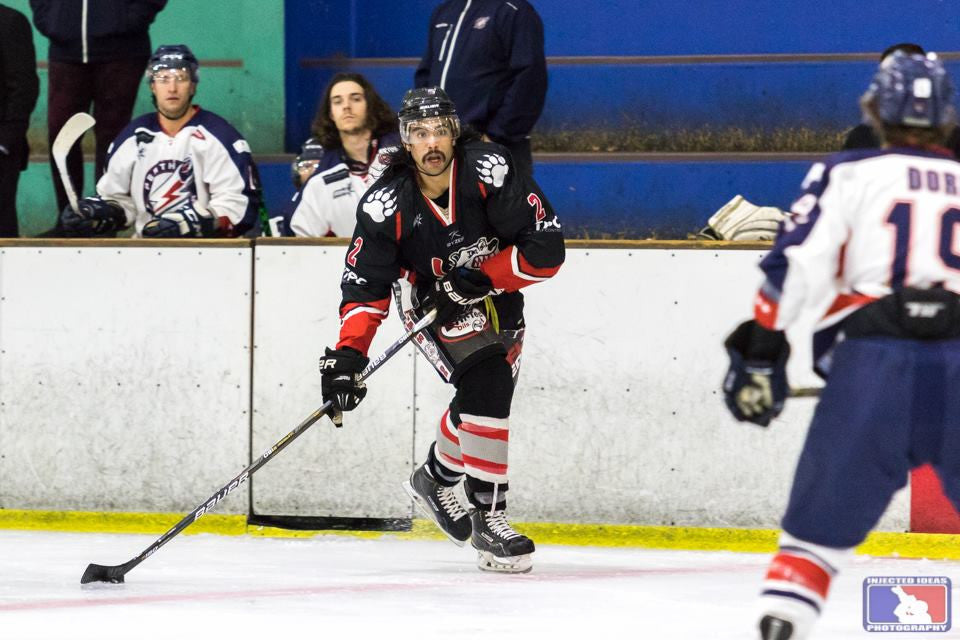 Part One:
Hey Bears fans!
It's Brian Funes here aka Funesy aka the "Mexican mo man" and I'm here to give you an idea on what it's like to go on a Melbourne road trip with the boys.
For this extra cold morning we had to meet at the Qantas group check in area at 7:30am. And the first thing that needs to be done for every road trip is the packing of sticks into the stick bag.
With most of the senior members still waiting for their coffee to kick in our rookies, Jimmy "The Kid" and Jeremy "Yet To Be Nicknamed" Vasquez, had to pack the sticks like the good little rookies they are. Like all sports, the rookies are the lowest in the totem pole and have certain duties during the season. Packing stick bags is just one of the many duties for a rookie.
After checking in our bags and another "random" explosives check on me (I blame the filthy mo for that) the boys went straight over to Mad Mex for Cam's favourite #MadMexBrekkieBurrito. A perfect way to kick off a road trip.
As you'd expect it's always about hockey on a road trip so of course we were listening to the live audio of this years NHL draft as we got stuck into our brekkie burritos. But it wasn't long after the 1st overall pick was chosen that Spencer realised he didn't have his boarding pass on him.
Immediately, the sports bet odds were already flying with Spencer accidentally eating his ticket and him forgetting it at the security check, being the heavy favourites paying $1.20 & $1.10 respectively.
But turns out Cam had it all along and just liked watching Spencer get nervous a bit before the flight.
A couple hours of sleep later and were in Melbourne. Luckily, my ticket said I was sitting aisle which for a man of my height is a luxury when flying domestically.
While waiting for our bags, I had time for a quick stitch up on Lachlan. I gave him a quick lesson on leaving your bags unattended at an airport by turning his bag inside out. His reaction to that prank wasn't as good as the one when he saw his hockey bag turned inside out going down the conveyer belt after that.
From there it was straight to the hotel and out for some cheeky Nandos with Billy, Nic and Paddy. A power nap was needed after and now it's off to the rink for 3 points against Melbourne Ice.
Part Two:
Sorry for the delayed update Bears fans! Much like the next Harry Potter book I'm sure you were all eagerly awaiting the next part of the blog so here it is...

The Shootout Specialists

Yet another shoot out win for the boys! Unfortunately we weren't able to get the full 3 points tonight but 2 will do. We had a great start to the game and were dictating the pace in the first period but Ice responded the following two periods to tie the game and take it to another shoot out (I know right! not again!?) But seriously this has to be some kind of a record now or something. 

Penalties were the issue in the third period and that's what helped them force us into a shoot out. Shout out to Nic "Captain Clutch" Kawasaki and also Kimma for putting up the wall against the Ice.

Great effort overall from the team also.

A win is a win though! And tonight's game was for the Air Canada Cup so we ended up with a nice piece of hardware to take back home for the fans. Schlampy aka El Capitan, Kimma and I went over to say hello to a few people from APA Group who came down for the game. We had an especially loud fan from that group who turns out is from Sydney and won herself $20 over a friendly bet against a Melbourne co-worker. You could hear her excitement on winning that bet from the other side of the rink and silenced the home crowd and won that shoot out. 

Post Game Celebrations

After the game "the adults" went down to the Jasper Hotel for a team dinner to have a few celebratory beverages while "the kids" (Lachlan, Jeremy, Jimmy and Tyerell) had to stick to happy meals next door. Another unfortunate part of being an under aged rookie is not being able to enjoy those post celebratory beverages. So we had another round in their honour back at the Space Hotel bar where we finished off the night with a few rounds of pool with Spencer and Cam who got back from the St Kilda vs Geelong game.

On our way up to our rooms we ran into a Texan girl who was on our level that looked like she was enjoying her night a lot more than we were. She came out of her room with a bag of goon and a paper bag with a strange face drawn on it. Not the most random thing I've seen on a road trip but it's up there though. She then asked me to put it on, which I didn't know whether to take that as an insult or not but I put it on either way for a quick snapchat selfie.


This road trip I got paired up with Mr Kawasaki the shoot out maestro himself aka the Japanese T.J Oshie. Luckily Nic's not a snorer unlike Paddy who sounded like a jet engine starting when I spoke to Billy "The Baby Faced Killer" Cliff over the phone before we went to sleep. 

After hearing that disturbing noise we called it a night. 

Day 2 - Pre-Game Prep

Sunday morning we had a 10am check out from the comfortable Space Hotel. Nic and I left for breakfast and a coffee down the road and came back later to enjoy the 2nd half of the USA v Colombia, Copa America game with Billy and Paddy. Luckily the Space Hotel had a nice theatre room on our level that usually has movies playing but today they had the game on. Perfect!

12:30pm it was back on the bus and off to Docklands for a pre game meal with spare time remaining for some of the boys to enjoy a very competitive game mini golf where "Captain Clutch" Kawasaki once again walked away with the W. That to me was a good sign for things to come in the upcoming game against the Mustangs. 

Others like myself and Paddy chose to walk around Docklands and see what sales caught our eye. Paddy wanted to "represent" (his words, not mine) so he picked up a fresh Sydney Swans beanie so he could keep that giant dome of his warm during warm ups.

From there it was back to the rink at 2pm to get changed and prepare ourselves for the game. Our pre-game team warm up had an especially hilarious highlight of Paddy absolutely smoking Adrian "Espo" Esposito right in the face with soccer ball in a game of "sewer ball" or "two touch". If it were a boxing match I'd have to give him a standing 8 count on that one. But he still took it like a champ though! 

After that it was back to the change room where the whole team enjoyed that moment together at his expense. He took the banter well and just joined in with the laugher while jokingly responding with "okay guys, let's focus on the game now" which just made everyone laugh even harder. The boys were in good spirits and ready for the game against the Mustangs, looking more and more focused as we got closer to game time.

Game 2 - Bears v Mustangs

Well unfortunately we couldn't come away with the win for that game with us giving away another lead in the 3rd period. If you saw the live stream online and you were a Bears fan you might say that there were a few questionable calls that forced us to constantly be on the PK during key moments in the game. Which allowed frustration to creep onto the bench. But if you look at the score sheet and see how many penalties we got in the third period you could see why we were getting frustrated.

But that's part of the game, sometimes they don't go your way when you really need them to. To the Mustangs credit they capitalised well on those opportunities with a late goal from Jamie Bourke. And an even later goal from Pat O'Kane that I feel went in just after the game was finished but it was still awarded. It's too bad we couldn't go to Toronto to confirm that goal but oh well a loss is a loss either way.

Back to Sydney

Well getting a goal and being awarded the third star of the game wasn't enough to cheer me up after that tough loss. And losing that way left the boys quiet and eager to get back on the bus so we could get something to eat at the airport. It was a quiet ride back to the airport.

While we were eating at the airport we spotted the boys from the West Tigers who were also grabbing something to eat before heading home after their loss. Sorry guys but no selfie with Aaron Woods in matching man buns for the blog this time, I know better than to disturb a big unit like himself from his food after a loss. After we were done eating it was onto the plane where myself, Kimma and Nic shared a few hockey stories to lighten the mood and forget about the loss.

Landed in Sydney at about 10pm where everyone went their separate ways to climb into bed and recover from a long Melbourne road trip. And that's pretty much it. I hope this gave you a bit of an idea on what it's like behind the scenes at a Melbourne road trip. If you saw the promo video for this road trip you can see that my one word response was "exhausting" and now you kinda have an idea why.

Thank you for joining me. Be sure to tune into Fox Sports 3 @ 4pm to watch our game against Melbourne Ice or come see us play the Ice Dogs next Saturday 5pm in Penrith.
Photo by Matthew Wragg
Leave a comment
Comments will be approved before showing up.