Game Preview: Sydney Bears vs Perth Thunder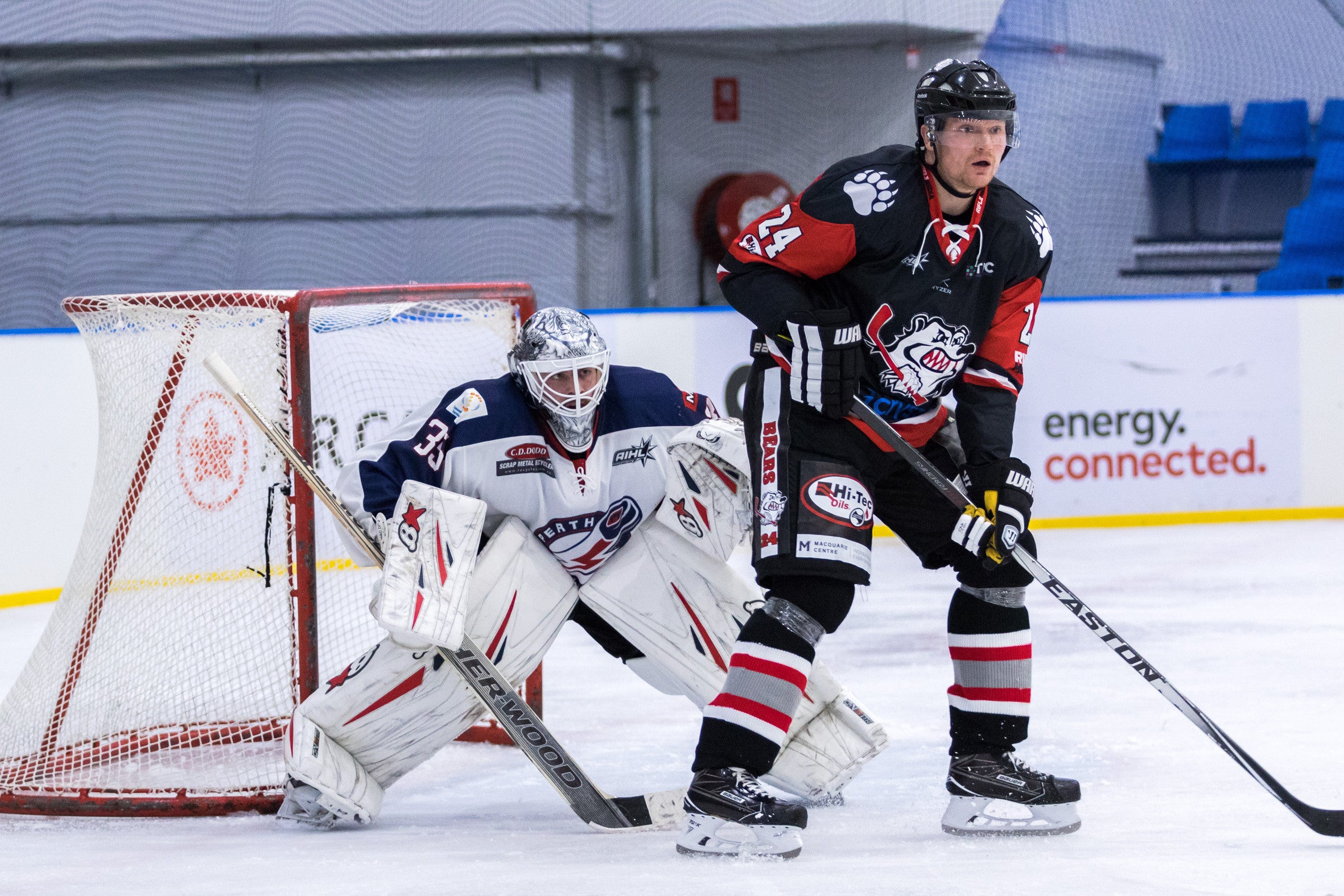 SYDNEY BEARS (1-1-2) at PERTH THUNDER (2-0-0-1)
Venue: Perth Ice Arena (Google Maps)
Tickets: Available for both days from TryBooking.
The Sydney Bears head off on their first significant road trip of the season this weekend. They'll make the six thousand kilometres round trip to the Perth Ice Arena with every intention of returning home with six points in the bag.
Perth weren't in action last weekend, so haven't played an AIHL game since their 2-1 shootout loss to the Bears at Macquarie Ice Rink on April 30th. Prior to that, they'd collected maximum points against the Newcastle Northstars and Sydney Ice Dogs with a 3-2 and 4-1 wins, respectively.
BEARS' KEYS TO VICTORY
PRESSURE IN THE CREASE: The Sydney Bears' need to ensure they're putting the maximum amount of pressure on Peter Di Salvo in the Perth net. He is known not to give up many chances, so they'll need to do all they can to knock him off his game.
BREAKAWAYS: Against the CBR Brave, the Bears were able to get chances on net through breakaways. They showed strong possession and pace breaking out of their zone with the puck and creating odd-man rushes. They've got to look to create the same chances on an impressive Thunder defence.
RINK RUST: With Thunder having had last weekend off, it'll be up to the Bears to test whether a week of no competitive action was a blessing or a curse. Hopefully for the Sydney side, it'll work in their favour and Perth won't come out of the gate flying.
IN THE SPOTLIGHT
Richard Tesarik (Forward) - He may have been kept off the scoresheet so far this season, but Tesarik has definitely been a driver of play when he's on the ice. Richard has shown a willingness to lead into the zone with the puck and barring some bad luck would already have a point to his name by now. Given the breakaways he has had so far this year and his AIHL history of picking up points; it's only a matter of time.
LAST TIME OUT
April 30 - Thunder 1 at Bears 2 (SO)
Nick Rivait opened the scoring for the Sydney Bears on his home debut, with a powerplay marker in the first period. Perth grabbed an equaliser with 0.1 seconds remaining in the second period, leading to an intense battle in the third with neither side able to take the spoils. Anthony Kimlin stood strong in the shootout, with Tomas Landa and Jackson Brewer putting the puck home to steal victory for the Bears.
PERTH NOTES
Perth has quietly built a formidable team over in Western Australia with a line-up that maximises the potential of their local talent, whilst also showcasing smart import choices. They are seen, year on year, as a contender for the finals series and this hasn't changed for the 2017 season.
The arrival of Christian Ouellet ahead of this game fills their four import quota and he looks to be an impressive player. Playing last season in the Ligue Nord-Américaine de Hockey in Quebec, he put up a solid points total and will no doubt hope to deliver in the same way fellow LNAH alumni Ben Breault has for the Thunder. Beyond those two, the Perth side will welcome back defenceman and captain, James Woodman who was injured last time out these two sides met.
FUN FACT
You need to go back to May 2015 to find the last time the Bears defeated Thunder in regulation. In the first game of the Perth road trip that year, they delivered an emphatic 5-0 win with goals from Richard Tesarik, Patrick Ward, Jospeh Harcharik, Cameron Todd and Adrian Esposito. Both Bears wins since have been decided by shootouts.
Photo Credit: Peter Podlala
Leave a comment
Comments will be approved before showing up.